This shop has been compensated by Collective Bias, Inc. and its advertiser. All opinions are mine alone. #MyLiteracyStory #DGMyStoryEntry #CollectiveBias
I have 3 boys and can honestly say that they all LOVE to read.  It's to the point that when my kids have the day off of school they will always ask to go to the library to get new books. They get so excited that you would think they were buying a new toy.
You can't imagine the amount of cereal we go through in one week as a family of 5 with some hungry boys.  While enjoying some great cereal's we have learned more about the Kellogg Literacy Initiative. Kellogg's is a proud sponsor of the Dollar General Literacy Foundation. Every day, Kellogg employees work together to fulfill the vision of enriching and delighting the world through foods and brands that matter.
Hover over the photo below to learn more! This is a shoppable image & you can click on it directly.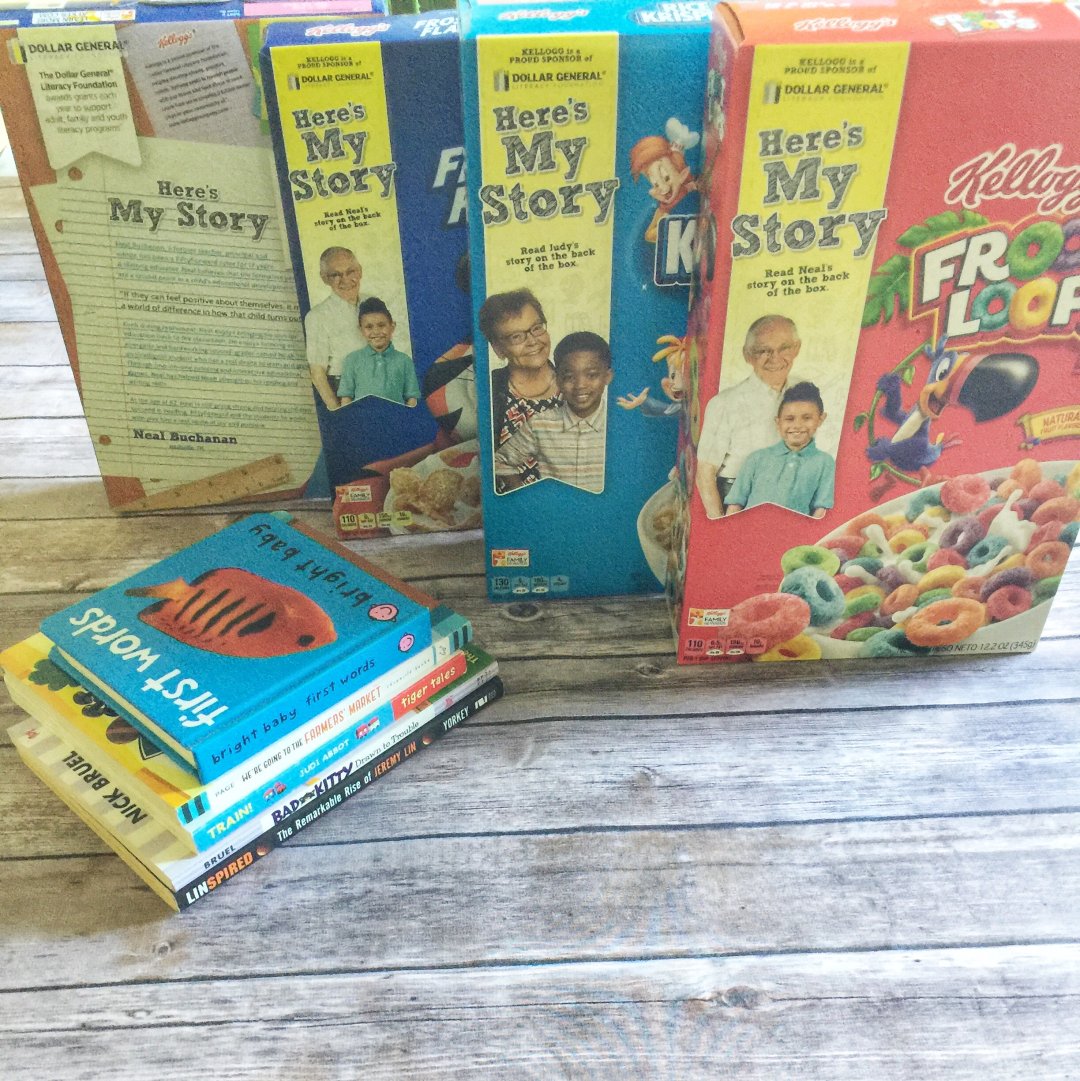 To enable screen reader support, press ⌘+Option+Z To learn about keyboard shortcuts, press ⌘slash
Kellogg's is committed to providing 3 billion Better Days through 2025 through initiatives that feed people and their potential.  Since its inception, the Foundation has awarded more than $140 million to nonprofit organizations and schools that have helped more than 9 million individuals advance their literacy and basic education skills. This is so amazing and I would love to be more involved in this.
We easily picked up these 4 amazing cereals from Kellogg's at our local Dollar General.
Head over to enter the #DGMyStory Sweepstakes with the hashtag #DGMyStoryEntry and share your own personal literacy story for a chance to win a $50 gift card to Dollar General.
We have made a point since infancy to encourage a atmosphere of loving to read and it seems to of paid off pretty well so far.  So, I'm sharing 5 tips that I believe will help encourage your child to love to read as well.
1.  Start early.
We started once they were born.  We would have a designated time to sit and read to them since they were babies and I believe it helped normalize reading in our home.  It was a part of our every day schedule, and as they grew they learned to look forward to that time of the day.
2.  Make it part of bedtime.
Our bed time routine always consisted of a relaxing time in their room where we would read a book to them before bed.  As they got older, they started to have some quiet time in their room to read as well.  We also did this in place of nap time and my 12 year old still looks forward to that relaxing time each day.
3.  Buy new books in place of toys.
For birthdays and holidays, we get our children some new books they have been looking forward to reading.  In the toddler years, we get books based on his interest, and right now that is anything that has to do with trains.  We love borrowing from the library and hand me down books, but there is a special excitement that comes from buying a brand new book and being the first to open it.  When they connect books as gifts, they start to value them more.
4.  Repeat.
At young ages, repetition is so important.  Our toddler loves to read one of the same two books every night because he is familiar with it and even tries to tell the story in his own words.  This is where the love of reading really starts and they desire to read a book by themselves.
My oldest son, has loved reading his whole life and now that he is in 7th grade we have seen how these tips have really benefited his life and how he loves to learn.  I'm so proud of the person he is and I contribute a good amount of that to his love for reading.  I truly believe these tips will encourage your kids as well.
We just have a debate on our favorite cereals! LOL Some of our favorites include: Kellogg's Frosted Flakes®, Kellogg's® Froot Loops®, Kellogg's Frosted Bite-Size Mini-Wheats®, and Kellogg's® Rice Krispies®.
5.  Read it & Watch it.
If a book has a movie made from it, this is a great opportunity for your child.  This has been a fun activity for us to do as a family after they had completed the book.  Many times kids feel that the book was better than the movie.  This is a good sign and helps them value the excitement that comes with reading.
My husband and I have always loved reading and it is something we are excited to pass down to our children.  It has become a way of self- care and escape for me.  I hope it will bring my children the same amount of joy.
Don't forget to head over to enter the #DGMyStory Sweepstakes with the hashtag #DGMyStoryEntry and share your own personal literacy story for a chance to win a $50 gift card to Dollar General.